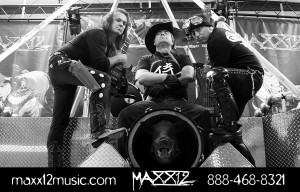 MAXX12 is executive produced and supported by legendary guitarist Ronnie Montrose. Ronnie has helped many fledgeling artists gain visibility with his classic rock sensibility and production talents throughout the years. His bands include MONTROSE, GAMMA, and Ronnie Montrose solo electric and acoustic projects.
Along with being the thunderous sound of rebellion in a post apocalyptic world, MAXX12 with their unique live show and wall of sounds have created a new generation sound sure to please hard rock enthusiasts worldwide. MAXX12 are seriously dedicated and would love to have you check them out on DVD, CD and live show if they are in your area!@ 9 Lives.
Also, don't miss Madeline Minx and Greg Hill's All Star Jam
Doors Open: 8:00pm
MAXX12 Goes on:9:00pm
Ticket Prices: $8.00 Advanced / $10.00 Door
Click here to purchase tickets.